Date of the event: May 7-11, 2018, Karlsruhe, Germany
Course Purposes
The ESoA / EuMA-EuCoM Course "Radar 2020 - Future Radar Systems" covers the state of the art radar technologies. After an introduction to the Radar basics, like propagation, radar equation, polarimetry, analysis of Radar Cross Section (RCS) of targets, including RCS measurement a.s.o. the actual radar types are presented, like CW-, FMCW-, pulse-, MTI-, mono-pulse-, UWB-radar and so on. This is complemented by the waveform and radar parameter chapter. The core part of the course is the presentation of the concepts for future radar, which will be significantly different from the state of the art radars, with systems functions like Digital Beamforming, MIMO Radar, Intelligent Signal Coding (e.g. OFDM) and Antenna Array Imaging for high resolution-small size radar antennas. Typical radar antenna concepts for beam-forming, arrays, and phased-arrays are presented. Another core part of the course are special radar applications, like Automotive Radar, or Synthetic Aperture Radar for imaging.
With respect to ESoA, this course includes/covers the relevant antenna and propagation ideas and phenomena and it lays the basis for the future of EM-sensors, radar and EM-imaging.
This ESoA course is co-organised by EurAAP, EuMA.
Targeted Participants
The course is targeted to PhD students, researchers, scientists, and engineers interested in Radar System Engineering. The course is for maximal 18 attendees.
Course Organizers
The course is organized by ESoA, the European School of Antennas, in cooperation with the Karlsruhe Institute of Technology.
Schedule
20x 1,5 hours of classes (32 lecture hours), including:
2 hours exercise and radar demonstration
2 hours of final exam

A detailed course scheduling is given below.
Teachers
Wiesbeck, Werner, Karlsruhe Institute of Technology, Germany
Zwick, Thomas, Karlsruhe Institute of Technology, Germany
Younis, Marwan, German Aerospace Centre (DLR), Germany
Kunert, Martin, Bosch GmbH
Venue
The course will be held at the Karlsruhe Institute of Technology (KIT), Institute für Hochfrequenztechnik und Elektronik (IHE), Building 30.10, 1. floor; Engesserstraße 5, 76131 Karlsruhe. See the map of KIT Campus Sued below and here.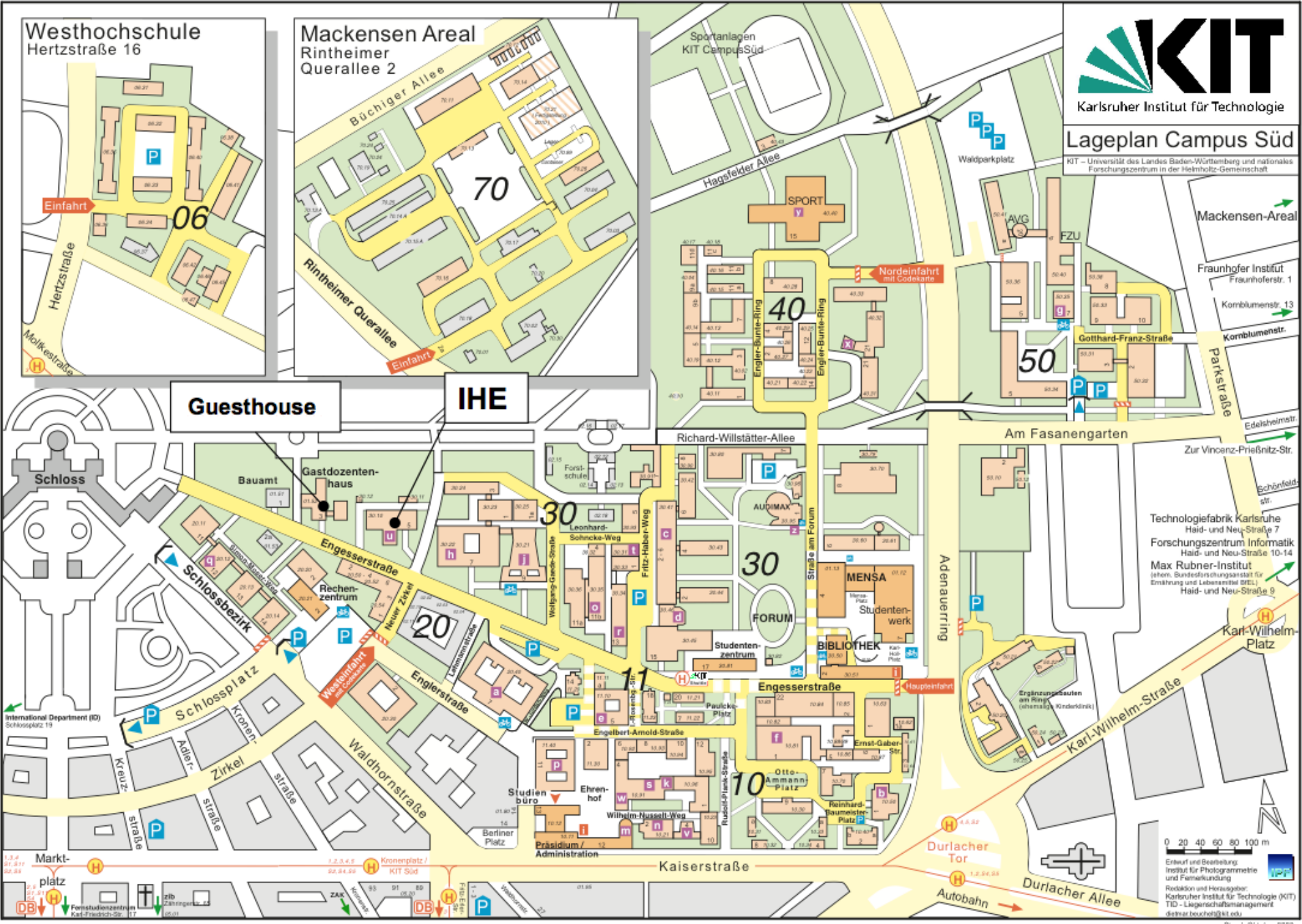 Course Fee
The course fee is 440 EUR for non-profit institutions and 1100 EUR for companies.
This cost covers registration, course material, coffee breaks, lunches, and a social dinner. Accommodation is not covered!
Registration
Please fill out the registration form before April 15, 2018. Information for the course fee payment will be transferred after registration form.
Student Grant Information
For the course in total 3 grants are offered for free course attendance, 2 by KIT and 1 by CST.
Information about the application can be found here.
Application deadline for the grants is April 15, 2018.
Course Credits
For the successful participation (including the exam), 3 ECTS credits are given.
Accomodation
The course will be held in the Karlsruhe Institute of Technology, IHE, Building 30.10, almost in the city center of Karlsruhe, close to the castle. Accommodation is not included in the course fee.
Social Dinner
The social dinner takes places at Höpfner Burghof, Haid und Neu Straße 18, Karlsruhe, 1.5 km from IHE.
Travel to Karlsruhe
Karlsruhe can easily be reached by public transport. The most convenient train connections are available from Frankfurt, Frankfurt Airport Airport (1 hour) and Stuttgart Airport (90 minutes).
A detailed description how you can reach the IHE can be found here.

Organization Team
Prof. Werner Wiesbeck, Karlsruhe Institute of Technology, Germany
Prof. Thomas Zwick, Karlsruhe Institute of Technology, Germany
Contact