Modern Radio Systems Engineering
Typ:

Lecture & Exercise

Lehrstuhl:

IHE

Zeit:

Tuesday, 11:30-13:00

Dozent:

Teaching Assistants:
M.Sc. Adriana Briseno Ojeda

SWS:

2 + 1 (Lecture + Exercise)

ECTS:

4

LVNr.:

Lecture 2308430 ; Tutorial: 2308431

Prüfung:

Exam: oral (approx. 20min)

Hinweis:
Due to the raging corona pandemic, we will perform online lectures using Zoom. The login information for the online lectures can be found in ILIAS. Furthermore, ILIAS will be the central platform for all documents and video recordings, so please sign up via the provided link above.
The first lecture will be held on Tuesday, April 21, 2020 at 11:30.
Short description
The course gives a general overview of radio systems and their components. Therefore the focus is on the analogue parts of the system with their non-idealities. Based on the physical functionality of the various building blocks of a modern radio system parameters are derived, which allow the consideration of their influence on the overall system performance.
Lecture shedule
21. April
28. April
5. Mai
12. Mai
19. Mai
26. Mai
9. Juni
16. Juni
23. Juni
30. Juni
7. Juli
14. Juli
(21. Juli)
Tutorials
The tutorials can be completed this year in self-study. The tasks and descriptions can be found in ILIAS.
I) Digital Communication (MATLAB)
II) Introduction to SystemVue
III) Direct down conversion receiver with IQ branch (SystemVue)
IV) FMCW Radar (MATLAB)
Dates, downloads, detailed information
Contents
1. Introduction to radio systems
- Overview over wireless communication systems
- Modulation and detection
- Typical system performance parameters
- System components
2. Radio channel fundamentals and antennas
- Wireless radio channel
- Antenna parameters
3. Noise
- Noise sources
- Noise temperature, noise figure, signal-to-noise ratio
- Noise figure of cascaded stages
- Mixer noise calculation
- Noise calculation in base band
4. Non-linearity and time variance
- Effects of non-linearity: gain compression, inter-modulation
- Cascaded nonlinear stages
5. Sensitivity and dynamic range
6. Oscillators: phase noise, oscillator pulling and pushing
7. Transceiver architectures
- Transmitter architectures: heterodyne/homodyne
- Receiver architectures: heterodyne/homodyne, image-reject, digital-IF, sub-sampling
8. Radar basics
9. Near range radar system design
- Modulation schemes
- Signal to noise ratio
- Detection and tracking
- Interference
(The lecturer reserves the right to alter the contents of the course without prior notification.)
Tutorial
The tutorial is partially based on the professional simulation software SystemVue from Keysight (formerly Agilent) Technologies. SystemVue is a focused electronic design automation (EDA) environment for electronic system-level (ESL) design. It enables system architects and algorithm developers to innovate the physical layer (PHY) of wireless and communications systems and provides unique value to RF and DSP implementation. As a dedicated platform for ESL design and signal processing realization, SystemVue replaces general-purpose digital, analog, and math environments.
The tutorial begins with system design and simulation of homodyne and heterodyne receivers followed by QPSK transmitter and concludes with FMCW radar design. The system design aspect is greatly simplified in Systemvue as components can be simply dragged and dropped from libraries (e.g. RF design kit, algorithm design, RADAR parts). Additionally, several commercially available component data sheets are also inbuilt in the software which will help students towards fast-track RF application learning. The simulation aspect covers system parameters like gain, noise figure, dynamic range, 2nd and 3rd order nonlinearities, eye diagram etc. Thus enabling students in understanding the key concepts in system design and imparting a better understanding of concepts covered during the lecture.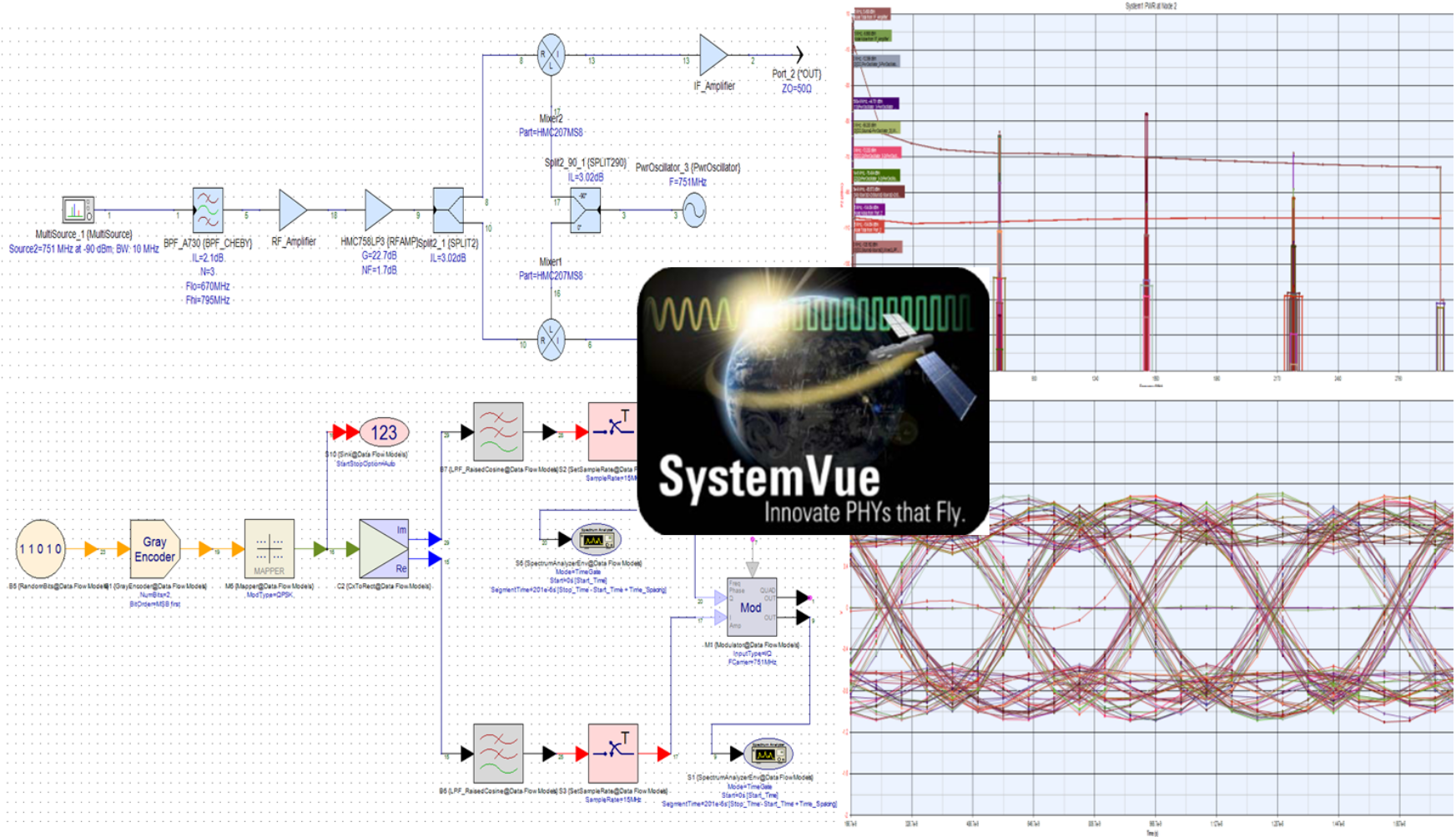 Dates of the oral exam
For the oral exam 3-4 possible dates will be announced at the end of the lecture period. The possible examination dates are normally spread over the complete non-lecture period from July to October.
To register for the exam you will be asked to fill in. Please note that this does NOT replace online registration or registration at the MPA for non KIT students. (Non KIT students have to bring the registration letter handed out by the MPA with them on the day of the exam).
All further information about the exact time of the exam will be provided via mail roughly one week before the selected exam date. The exam will take place in the office of Prof. Zwick in room 3.40 Bld. 30.10 and will be around 20 - 25 min.